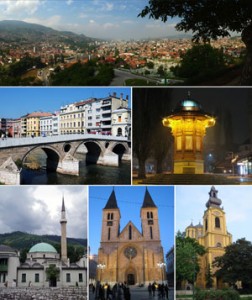 One year ago, I told my friend Diana that I would love to come alongside her and the women she connects to in Bosnia if she sees a place where my counseling services would be a blessing. I'm happy to say that I am en route to Bosnia as you read this, and I can't wait to meet the people I've been praying for. As God was preparing my heart for this trip, I got some clarity on what I need prayer for, and I'd love to invite you to pray with (and for) me. Thank you for joining me in prayer however often you feel led and starting as soon as you are able. I'd love to know that people are covering this trip in prayer from door to door, so please feel free to leave a comment letting us know that you're with me in prayer.
I travel June 6 – June 19, arriving in Sarajevo June 8 (with an overnight in Vienna) and will head to the mountains for a retreat that my friend Diana is leading. She is a missionary there, and I am going to offer counseling to the women attending the retreat. They are mostly from one church in Sarajevo and mostly Bosnian, but I believe that some ex pats (missionaries and others) will be attending the retreat. I will have a handful of counseling slots available Saturday afternoon and offer input throughout the talks Saturday and Sunday. I will also lead them in communion on Sunday.
We will return to Sarajevo Sunday evening, June 10th with the hope that we'll have several counseling sessions set up Monday through Wednesday with women from the retreat. I anticipate that many of the issues we'll be working through are around domestic violence, sexual abuse, and possibly other PTSD issues carrying over from the war in the 90's. But since I am going in "sight unseen" in many ways, I know I could be working with any number of things. Thank God He can handle whatever they're dealing with!
As usual, coming in for a handful of sessions in any country is precarious. I don't want to open them up and leave them hemorrhaging while I'm jetting back to the States. But I know that God can do some amazing things in a short amount of time when that's all we have. That being said, here are some of the things to pray for.
Please pray…
That God continues to prepare the women's hearts for the retreat and for the time that we will counsel together.
That women would not be hesitant to sign up for counseling. This is not a given since I'm unknown and counseling can still have a stigma in that part of the world.
That the sessions I have with each woman would be multiplied in time and in efficacy.
That I would sense clear direction from the Holy Spirit where to take each woman I sit with. It can be hard for me to know where to begin when there are multiple issues in a culture that doesn't overtly celebrate or protect women.
That God would give Diana and me clear direction on how to spend our time when I'm not counseling (other people to meet/care for and in what capacity).
For Diana, Enisa, and Wendy, as well as the other leadership as they lead the retreat and stay in country to follow-up with the women long-term. Enisa is the women's ministry leader of the church that's sponsoring the retreat.
For my clients while I'm away. Often they do great work when I leave for more than a week, but for some it's pretty unnerving.
That traveling would go smoothly. I have an overnight layover in Vienna both ways and another overnight in Zürich before I leave Europe for home.
Thanks again and again for joining me in prayer for this time. I am open to however God wants it to look, so I'm so curious what He has in mind. I'll keep you posted as I am able, but if I don't contact you before I return, I'll be sure to let you know how it went.