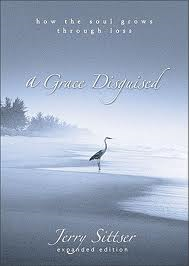 When my friend in Spain lost his 13 year-old daughter to a massive brain hemorrhage, he told me that his favorite book on grieving "by far" was Jerry Sittser's A Grace Disguised. After reading the first ten pages of it, I could see why. Sittser's story is staggering: he lost his wife, mother, and daughter in one tragic fell swoop. Unlike a memoir, Sittser weaves many other peoples' stories of tragedy and loss into his own as he walks his readers through the days, weeks, and months after the accident that changed his life forever. With profound eloquence and honesty, Sittser invites his readers to reflect with him on sorrow, loss, and life. He goes beyond the raw grief to offer the insight and perspective he has gained from the life he didn't choose.
Reflecting on his new unbidden reality, he writes:
Sorrow took up permanent residence in my soul and enlarged it. I learned gradually that the deeper we plunge into suffering, the deeper we can enter into a new, and different, life – a life no worse than before and sometimes better. A willingness to face the loss and to enter into it is the first step we must take.
This book is not only for those of us who have experienced deep sorrow or loss, though to you it will likely feel as though you're reading pages out of your own journal. But it is also for those of us who want to gain new insight into our own sense of sorrow, forgiveness, grace, justice, and redemption.
 Reviewed by Monica Taffinder